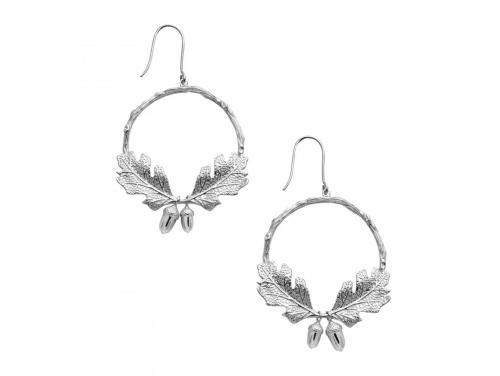 Karen Walker Stg Acorn & Leaf Wreath Earrings
$389.00
Sorry, Out of Stock - but available as a Special Order
Enquire Now
---
Suspended from a twig wreath, a duo of acorns nestle between delightful Oak leaves for the Sterling Silver Acorn and Leaf Wreath earrings. Serving whimsy to the hoop silhouette, Karen Walker uses the textures of a twig for the Acorn and Leaf Wreath earrings.
Adorned by a duo of oak leaves, the iconic acorn has been miniaturised and recast with organic intricacies in Sterling Silver.
Also availble in 9ct Yellow Gold for $3829.00 and 14ct Yellow Gold Plated Sterling Silver* for $479.00
*Gold plated jewellery has been electroplated with 14 carat gold, covering a 925 Sterling Silver base. These earrings are plated one micron thick and are finished with an e-coating, which is a clear lacquer to help further protect the plating from wearing and tarnishing.